Let's face it morning sickness sucks!
Here is all natural lemonade that can help you ease your symptoms and calm your tummy. The ingredients have each been studied and backed by scientific research showing that they reduce nauseous feelings. Plus it's packed with antioxidants, electrolytes, minerals, probiotics and anti-inflammatory properties, all of which will help you feel better in a hurry.
Mix up this lemonade in the morning, and sip on it throughout the day!
Makes about 1 litre
1 cup (240 ml) of hot water
1/4 cup (60 ml) raw honey
2 cups of cold water or sparkling water
1 cup of coconut water
1/2 cup (120ml) of lemon juice (freshly squeezed is extra nice)
1 teaspoon of raw organic apple cider vinegar
1/4 teaspoon of natural salt (sea salt or Himalayan rock salt)
1 1/2 teaspoons of fresh ginger pulp/juice (use a garlic press)
Directions
Add the hot water and honey to a mug and stir to dissolve.
Choose either flat cold water or bubbly sparkling water. Some moms find that the bubbly water helps with their digestion.
Add water and the rest of the ingredients into a large pitcher (at least 1-quart or 1 litre in size)
Keep in fridge for up to 1 week.
Stir before serving.
PS. You are TOTALLY allowed to play with the ingredient amount, and adjust the flavour and sweetner to your taste.
NOW HERE'S THE SCIENCE BEHIND THE INGREDIENTS
Raw Honey
This is nature's sweetener; it's packed with enzymes and has antibacterial properties.
Coconut Water
Coconut water is full of electrolytes your body needs – 5 of them to be exact: potassium, sodium, magnesium, phosphorous, and calcium – to prevent dehydration – a common side effect of vomiting.
Lemon Juice
The refreshing scent and flavour of lemons has been shown in research to reduce nausea. Bitter and sour flavours help to simulate digestion which can get sluggish due to pregnancy hormones.
Read the Research: https://www.ncbi.nlm.nih.gov/pmc/articles/PMC4005434/
Raw Apple Cider Vinegar
Morning sickness (aka all day sickness) occurs when the stomach acid becomes unbalanced. An organic apple cider vinegar has a neutralized pH and can rebalance the stomach and calm the stomach acids that cause nausea.
Natural Sea Salt or Himalayan Rock Salt
Natural salts contains lots of trace minerals along with sodium. Together they help to calm the nervous system and reduce adrenaline levels. The relaxation response has also been associated with decreased nausea.
Ginger
This root has long been used to treat nausea. Ginger aids in digestion and calms the stomach.
Read the research: https://www.ncbi.nlm.nih.gov/pmc/articles/PMC4818021/
Bye Bye Morning Sickness, Ease that Quenze!
I hope this lemonade helps you through those rough weeks of early pregnancy. Remember – it will get better! Relaxation, guided meditation and imagery have all been shown to reduce nausea. And the best part – you can feel better with NO EFFORT just lay down on your couch and tape play on this guided meditation for overcoming morning sickness.
Then check out these additional 10 natural way to reduce morning sickness too.
If it get really severe…
Some women nausea in pregnancy becomes a serious health concern and they really struggle to get enough nutrients into their body. Please do not suffer needlessly. If your symptoms are crippling or seem unusually severe, make sure that you are talking to your care provider – midwife or doctor – because there are some meds that are really effective. I always like to start with holistic things first and then up level if needed.
What about you?
Did you experience morning sickness? Which morning sickness remedy helped you feel better? Tell us in the comments below!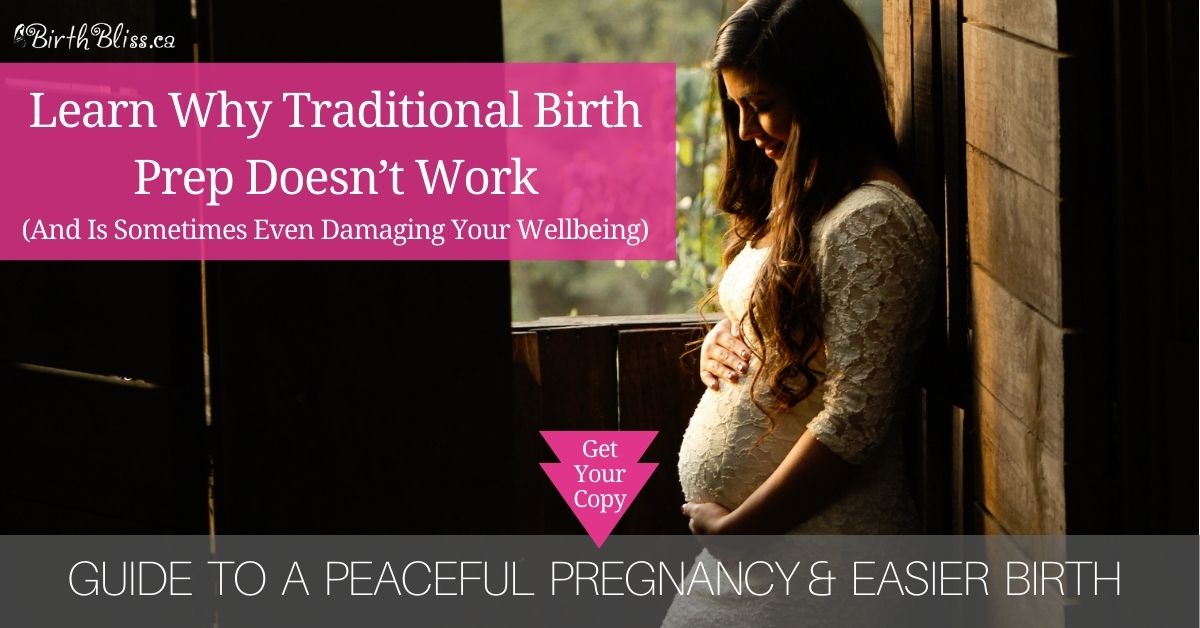 Growing a baby can be exciting, tiring and overwhelming all at the same time.  – – – >> If you're ready to stop worrying and start building the relaxed conscious mindset that will set you up for a positive birth experience, simply click here, and get the guide today.