Diffusing essential oils is one of the nicest and HEALTHIEST ways to make your home smell good.  In addition to just making your house a more pleasant place to be, essential oils also have the ability to clean the air, to open airways, and to positively affect your mood.  (If you are up for hard science, you might like to check out the website www.aromaticscience.com for listing of all published research on essential oil use).
In order to diffuse oils effectively, you'll need a diffuser.  That's a little machine that puts essential oils into the air.  I frequently get asked about which doTERRA diffuser is the best.  So in case you've been wondering, here are my thoughts.  I hope this helps you make your decision…
How to Choose the Right Diffuser for Your Family…
The reason there are 5 different doTERRA diffusers is because they work in different ways and which one is best will depend on what you need it to do and which one better fits your goals. Here are the pros and cons as I see them: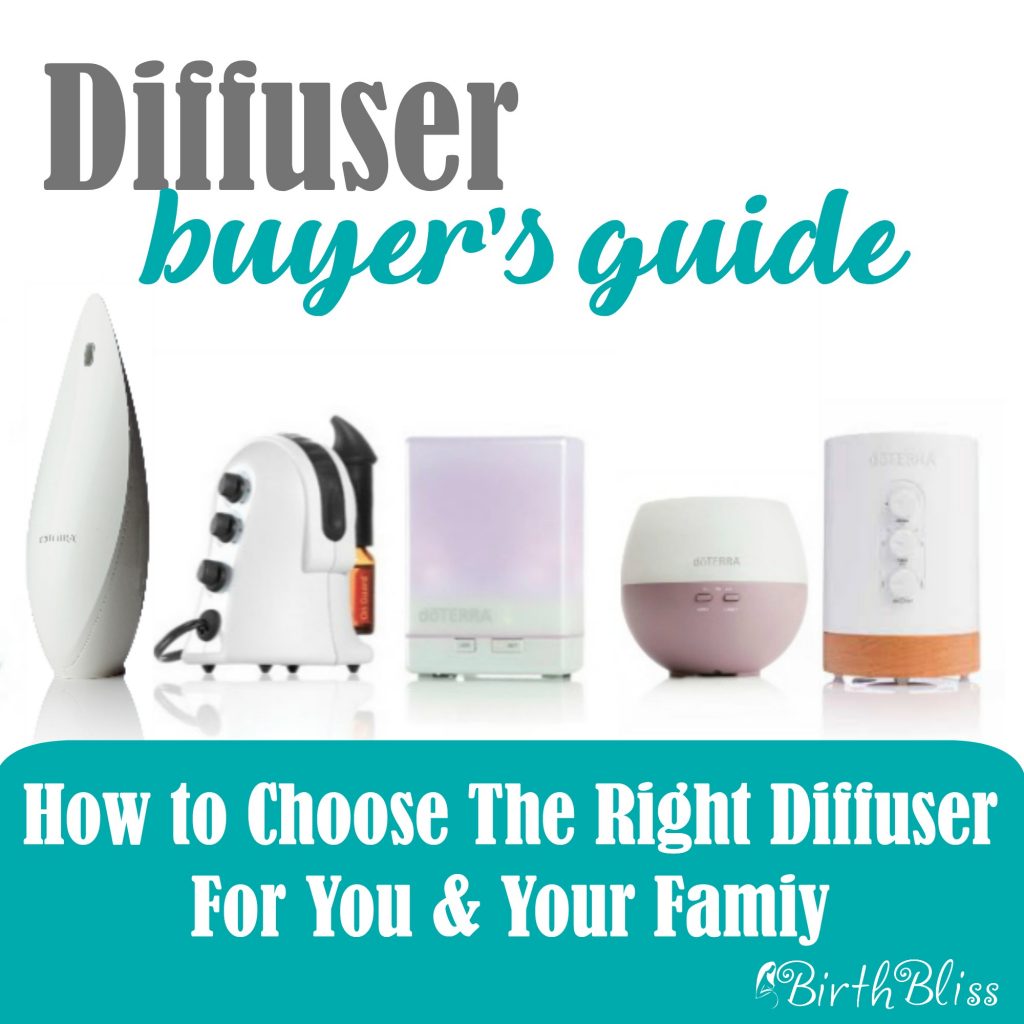 First a word about quality! All of doTERRA's diffusers are high quality, well-designed and well-made diffusers which will serve your family for years to come.  When you choosing a diffuser you have to ensure quality.  Really cheap diffusers will use heat (think candle warming versions) or blown air to diffuse – stay away from those options.  The ones that use heat will destroy the healing properties of the essential oil chemical components.  The ones that blow air won't hurt your oils – but they will make you use a TON more oil in order to be able to smell it in your home.  It's just not worth it.  You'll end of spending way more on essential oils with that kind of diffuser.  Start with good quality and truly get the most out of your diffusing experience!
Lotus Diffuser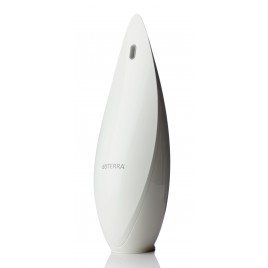 This one is my favourite!  Just look at that sleek modern design, elegant and beautiful.  It looks stylish on your counter and it comes with a soothing LED light.  It's easy to use.  You put a little water in it and add a couple drops of your choice of essential oils and tada…  a cool mist rises out.  Almost like a little humidifier, except that the mist is cool because the lotus uses ultrasonic vibration to create the mist.  Here's how that works; inside the diffuser there is a little metal plate that vibrates the water molecules so that they break apart and become smaller and lighter than air, and so they rise up in a mist.  It's sort of like standing at the edge of a waterfall and feeling the mist around it.  Just like a waterfall, an ultrasonic diffuser also releases lots of negative ions.  Negative ions in the air have been shown in studies to improve energy and mood.  So you get the double benefit of the diffused oils in the air and the negative ions.
The Lotus diffuser will run for one, two or three hours. For me, I don't like being locked in to the same scent all day long. I love that with the lotus I can change the aroma after a couple hours.  However having to refill it that often drives some people crazy, but I love the flexibility.   Its other big advantage is that it is very quiet to run – just a slight sound of moving water, which I find lovely.   In addition the lovely soft white light can be turn off or left on.  The front panel is easily removed for quick access to the reservoir and cleaning.  You do need to clean it from time to time or it gets water deposits and won't work as well.  It's easy to clean though.  It comes with a little brush and every month or so, I brush the silver ultrasonic metal piece with a little of rubbing alcohol or vinegar and rinse.   Then it works like a charm again.  This one covers 330 square feet.
Aroma Ace Diffuser
My family has nicknamed this one our R2D2 dif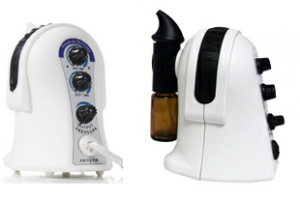 fuser for it's funky little design.  To me, it is worth the little bit of extra money for the Aroma Ace Diffuser.   The main drawback is that it's pretty noisy.  If it's running in my kitchen in the day, I don't even notice hearing it, but in my bedroom at night, it drives me nuts!   My husband on the other hand finds it to be a soothing white noise though and can easily sleep through it.  I like to run it upstairs when I put the kids to bed with either serenity or vetiver.   You can learn more about serenity here and more about vetiver here.  Both are great oils for promoting a restful sleep.   The nice thing about the aroma ace is that it's so adjustable – you control the rate of diffuser from low to high, and you control how long it says on and how long it stays off for.   So for example, at the kids' bedtime we set it to run at medium on for 10 minutes on and off for 20 minutes.  About 2 hours later when we go to bed we shut it off but the aroma lasts in the air for 3-4 hours.  And that's enough for us.  I know someone who uses it at their massage clinic – there they set it to run at low on for 5 minutes and off for 10 minutes and it alternates on and off in that sequence all day.  It would great for at the clinic because they can set it and forget about it.  The one downside is that if you run an oil on high on for 30 minutes and off for 2 minutes continuously day and night in that setting, a 15ml bottle of oil would last about a week.  Depending on the oil, that can get quite expensive.   This kind of diffuser uses a different technology so the oil isn't mixed with water – you just screw the bottle directly into the diffuser.
Aroma Lite Diffuser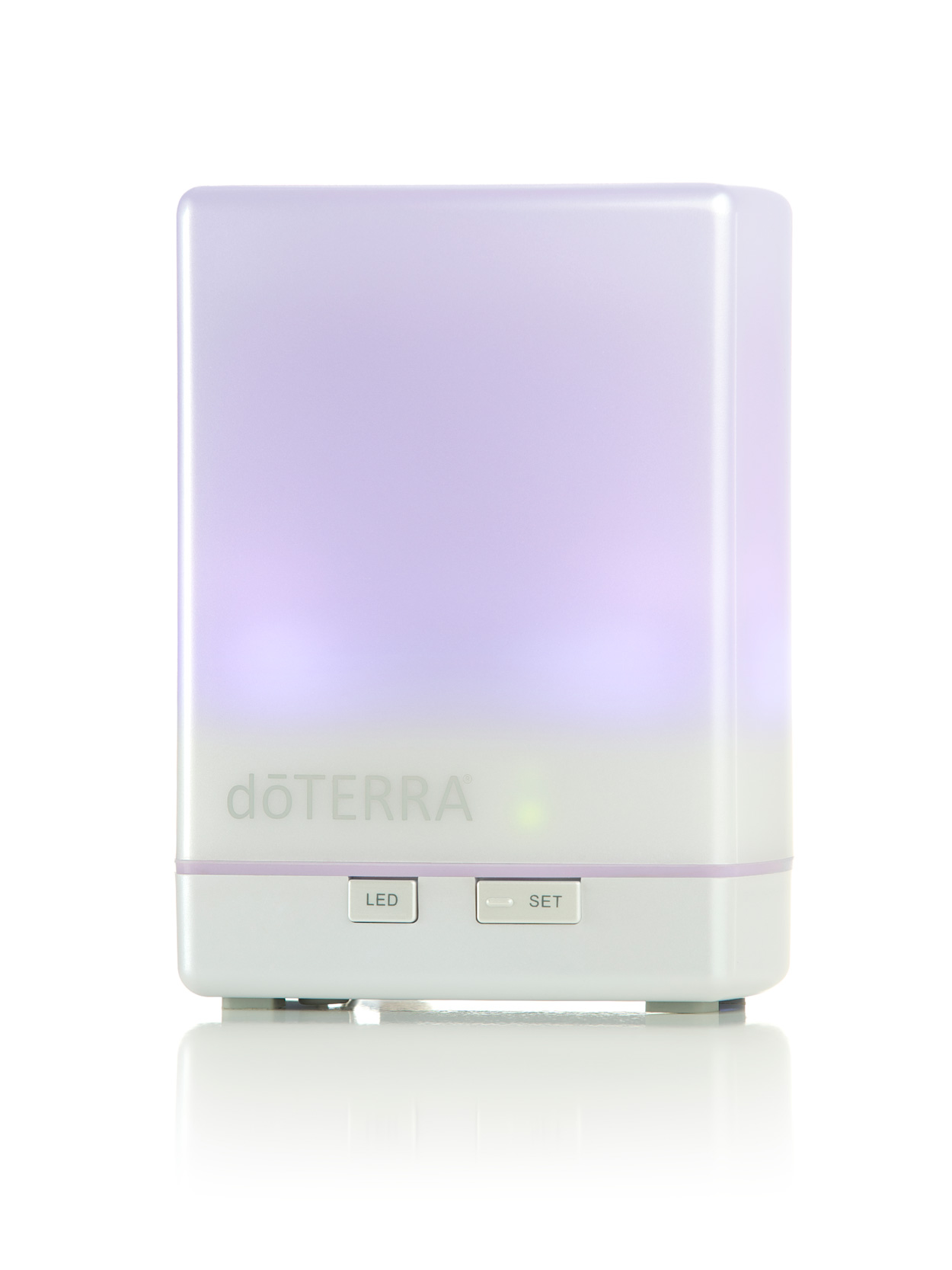 I love the Aroma Lite; it's a close tie with Lotus for my favorite doTERRA diffuser. I still use the Lotus in the kitchen because I love to change the essential oil scent frequently and I LOVE how pretty it looks.  I love having the Aroma Ace upstairs because it's less prepping than the Aroma Lite or Lotus since you don't have to put water in it.
BUT I love the Aroma Lite for it's all around usefulness.  It's great for bedroom during the night because it is really quiet and you can turn the light off and it will run for up to  8 hours.  If someone has a cough in your family, then having some breathe oil diffusing all night long will make a world of difference in the quality of their sleep.  Similar to the lotus diffuser, the Aroma Lite uses water and oil together and ultrasonic diffusion to create the mist.   Therefore it will need cleaning for the water deposits but I have found it easier to clean that the lotus diffuser, because it's easier to get access to the little silver plate inside that you need to clean.    I like that that the little purple light can be turned off or on.  The other reason I love this one, is that it's a great diffuser to travel with.  It's small and compact and fits easily into a suitcase.    It's actually compact enough that I can put in it in my purse when I travel to teach classes.   It's final pro is that is covers a large area up to 600 square feet.
Petal Diffuser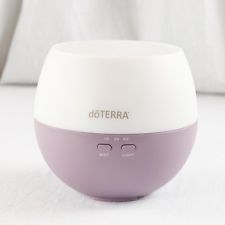 I think the part I like the most about this diffuser is the price point.  It's about half the cost of the other ones.  It uses ultrasonic diffuser similar to the lotus and the aromalite, so it also needs to be cleaned from time to time.  The tank of water is slightly smaller than the aromalite, so the petal's maximum diffusion time is 4 hours.  You can also set it to run for 1 hour, 2 hours or 4 hours.  It has a little purple light which can be turned on or off.  The top white part of the diffuser will glow and is quite lovely when turned on.  It doubles as a great night light.   In my experience, many families like to have a diffuser in each child's bedroom.    This one is probably your best bet for that option because it's easier on the pocket book.   If you are just starting out with oils and are looking for your first diffuser, I think this would be a good choice.  It's quiet, has a cute design, is versatile and works well.  It covers about 330 square feet.
Lumo Diffuser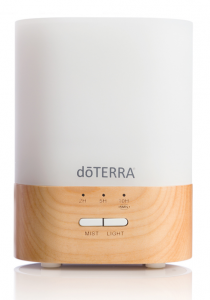 The Lumo diffuser is the newest in my collection of diffusers.   This one is an ultrasonic diffuser so it's nice and quiet, just the small sound of moving water. I love the Lumo's design, sleek and contemporary with the lovely maple wood base.  The feature that knocks this out of the park is that the light changes colours.   There are 7 different light settings. So you can even choose the one that best matches your décor.   Silly I know, but little beautiful touches like that make me happy!   The colours available are light blue, green, orange, pink, purple, teal, or a rotation of all the colours – like a rainbow. Happily it also has an off option for the light, if rainbow colours aren't your thing.
It will mist for 2 hours, 5 hours or intermittently for 10 hours (5 minutes on/5 minutes off).   This is a great option as a diffuser to run through the night.
We've found that the Lumo is very efficient at diffusing essential oils in a large space.   It's said to cover 540 square feet, but in using it, it feels like more than that.
Want more essential oil tips?  Come follow me on Instagram!  
   You'll love how I play with my oils!  🙂
If you enjoyed this post, you might also enjoy reading these two.
Beautiful Diffuser Blends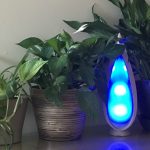 Diffusing essential oils in my home is one of my favourite parts of everyday.  I love choosing a blend that will make my house smell beautiful and at the same time support my family's health.   We do this to clean the air and to support and adjust the moods of our family!  I recommend diffusing two or three times a day for at least 30 minutes or more each time.  We love ultrasonic diffusers which use water and essential oil to make a fine mist.  Typically we use 3-8 drops of essential oil each time.  Here are some of our favourites!  Keep Reading
Empowering Wellness with Essential Oils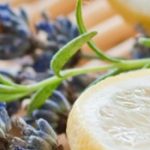 What if there was something that you could do for yourself and for your family to help them be and stay healthy?  Right now is the prefect time to empower yourself with the information and the tools that you need to create long term wellness.  Keep Reading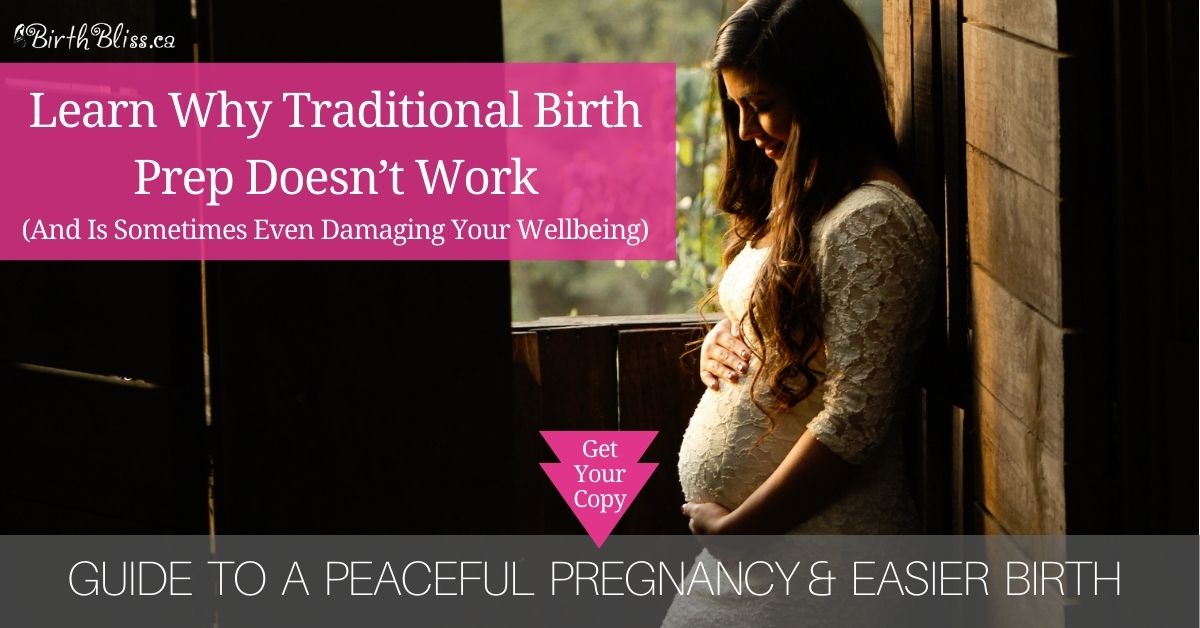 Growing a baby can be exciting, tiring and overwhelming all at the same time.  – – – >> If you're ready to stop worrying and start building the relaxed conscious mindset that will set you up for a positive birth experience, simply click here, and get the guide today.