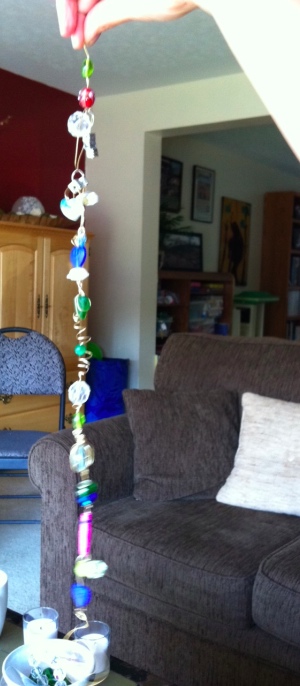 I am seriously in love with Blessing Ways.  EVERY mother deserves the ritual and right of passage that a Mother Blessing or Blessing Way provides.  If you are totally new to this idea and need a bit of an introduction, please first read this article about what is a blessing way.
Blessing ways often include a ritual or activity to symbolize the love and support that we are offering to the mom to be.  One of the most common ways to do this is with beads.  Each guest is invited to bring a bead along with their blessing.  During the blessing way, these beads are strung together into a beautiful necklace or bracelet for the mom to be.  During labour, this will then serve as a reminder of all the love, support, and blessings that the woman has received for her pregnancy, birth, baby, and life-long journey of motherhood.
A couple years ago, I was organizing a blessing way for a good friend.  She loved the idea of beads but isn't really into jewellery.  She thought that a bracelet or necklace just didn't really fit for her.  She asked if we could do something different with the beads.. maybe a suncatcher?  I said "sweetie this is your day, we will do whatever you want!"  So we asked each guest to bring a piece of glass or glass bead – I bought some wire and we made a suncatcher.  The suncatch was hanging at the hospital and is hanging to this day in her daughter's bedroom.  Here is a photo of the finished suncatcher.
Since then many woman I work with, have come up with interesting ideas for ways to use the beads.  Below are some of the creations we have made at blessing ways so far.
At April's mother blessing, we created a dream catcher.  April got the supplies for a local craft store, watched a youtube video and create the central part of the dream catcher.  At the mother blessing, each guest used her supplies and the bead they brought to add one of the dangling tails pictured below.  This now hangs above her son's crib.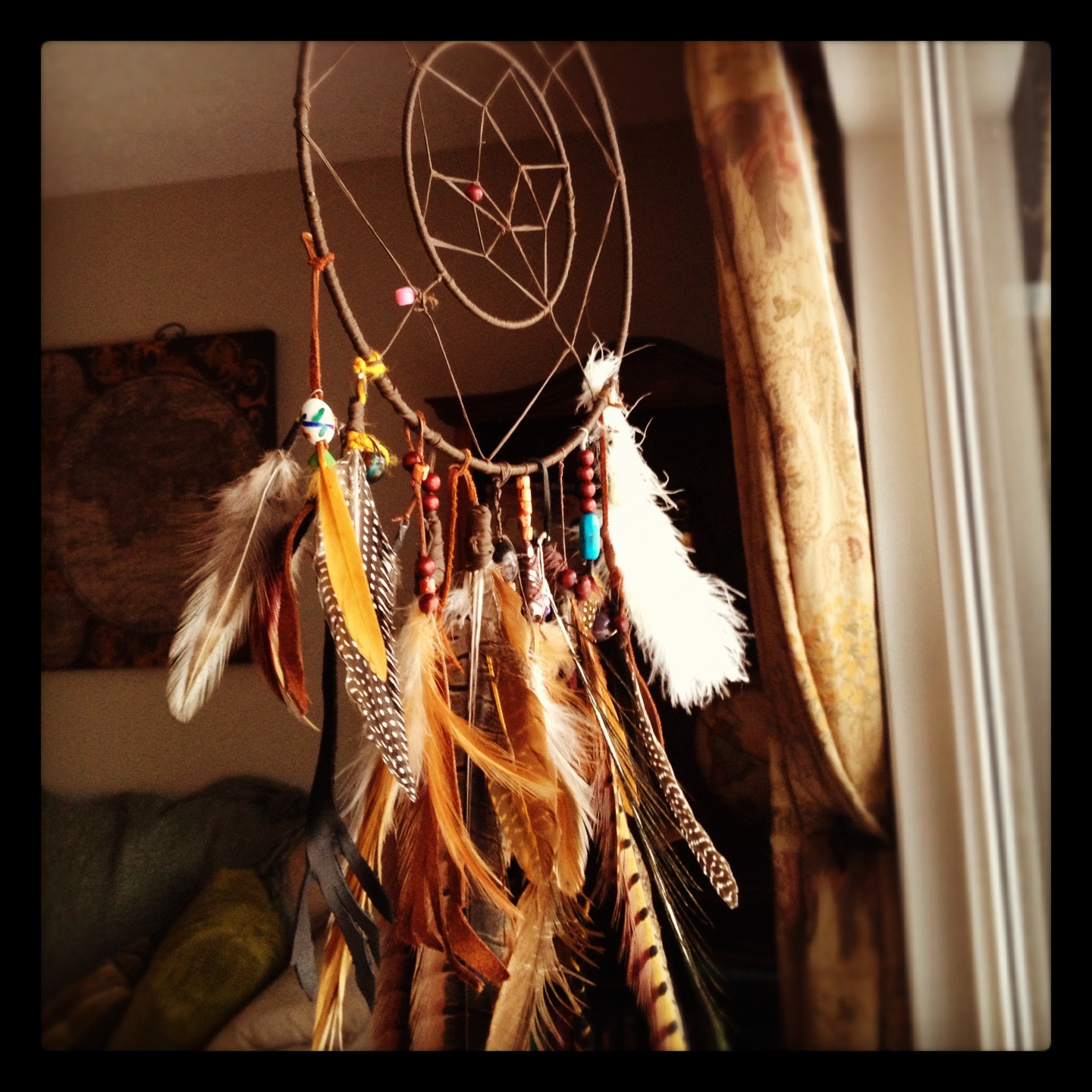 For Paula, she really wanted something that she could hold on to during labour.  We came up with the idea of a fidget.  Fidgets are often given to children who need to physically manipulate something to help them calm down.   It works for adults too!  So the beads were combined in a row with extra room on the string or rope.  This means that the beads are free to move up and down and so you can fidget with them in your hand.  Paula used the fidget in labour, both for it's calming effect and also to remember all the women in her life who were cheering her on in spirit during her labour and birth.
At Jody's blessing way, she decided to make a mobile for her little one.  Everyone worked together to create this for her and her baby.  This mobile now hangs in her son's room.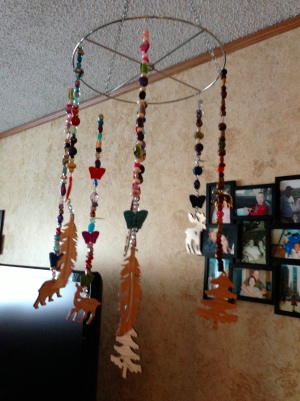 And of course sometimes the simple idea of creating a necklace is beautiful too.  At Megan's blessing way, everyone seems to be on the same wavelength as most of the guest brought her a blue bead.  Some people feel compelled to bring a few beads, hence the repetition that was made possible in the pattern, which for ascetic reasons is quite nice.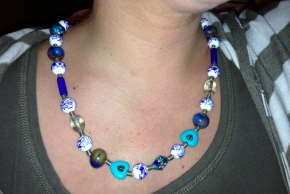 Here is another great idea, ask all your guest to bring beads of a certain colour and then everyone makes a bracelet and you can ask your guests to wear it when you are in labour as a way to send you love, prayers and support!  In this photo we all made red bracelets.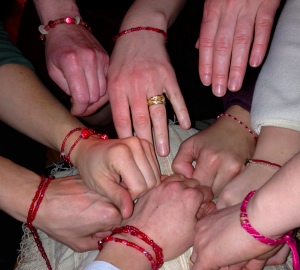 If you are planning a blessing way, I hope this blog post will serve as a springboard to help you find the symbol that fits for you.  If you have any other ideas – please share them in a comment below.
And ps.  if you are curious why symbols are important, check out the blog posts listed below.
Marie
If you enjoyed reading this post, you might also enjoy these two articles,
Whetting Your Symbolic Appetite (Part 1)
This is the f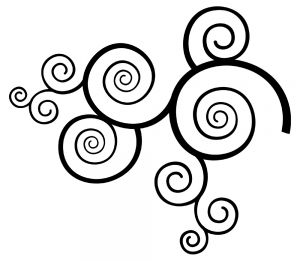 irst in a series of articles exploring symbols as they pertain to pregnancy and birth.  If you're not already a symbolism junkie, get ready to be a convert!  Read on to discover how easily you can use the power of form as you deepen your hypnobirthing practice.
As the adage goes, "A picture is worth a thousand words."  Symbols, including letters and numbers, are the currency of the subconscious mind.  Whereas logical, linear thought is the domain of the conscious mind, non-rational, instantaneous, global thinking fills the subconscious, and archetypal symbols can connect with the collective unconscious.  Keep Reading
Growing Your Symbolic Appetite : The Circle (Part 2)
This is the second in a se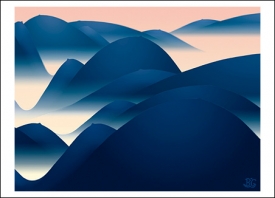 ries of articles exploring symbols as they pertain to pregnancy and birth.  Further to last issue's introduction to symbolism, this time around we're looking at the Circle, a form well-attuned to birth, indeed. Universally, the circle represents completeness, infinity, wholeness, focus, and unity. As Hermes said, "God is a circle whose centre is everywhere and whose circumference is nowhere." In nature, we find circles in the celestial bodies, in the cycles of women and the seasons, in cells and seeds, in tree rings, and as ripples in water.  Keep Reading 
.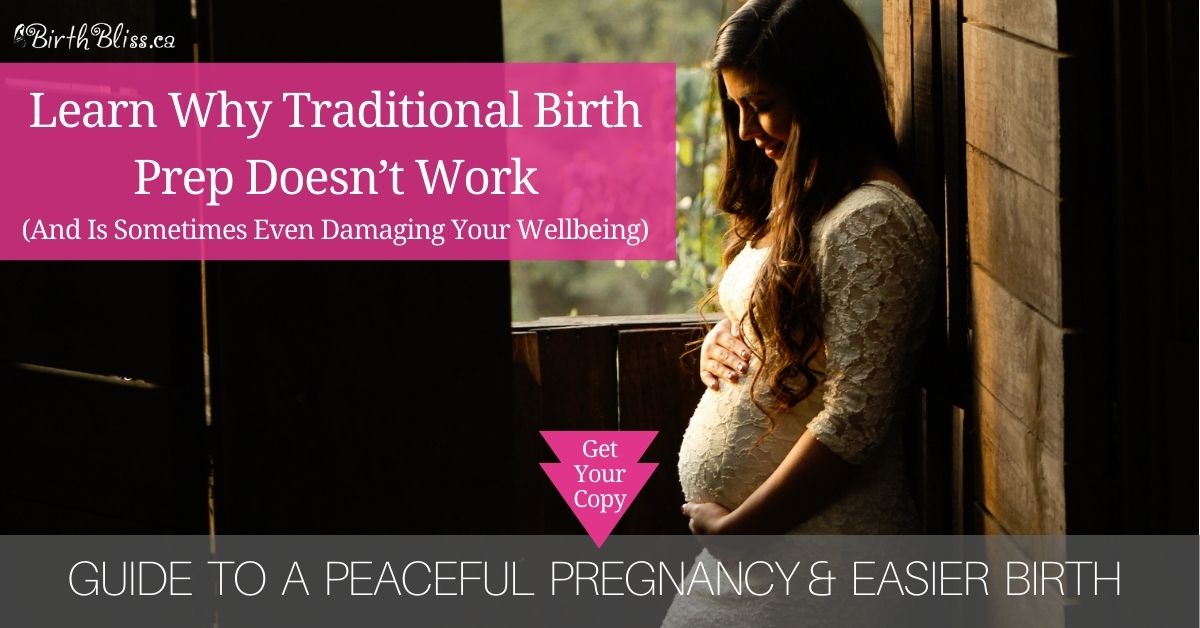 Growing a baby can be exciting, tiring and overwhelming all at the same time.  – – – >> If you're ready to stop worrying and start building the relaxed conscious mindset that will set you up for a positive birth experience, simply click here, and get the guide today.