Jessica is our second child, Andrew is my oldest child and he will be three in October. His birth was fantastic also so I will tell you about his first.  We were living in Medicine Hat, and at that time I didn't know about hypnobirthing. I was taking prenatal class and prenatal yoga, and that's where I learned the basics for breathing and relaxing through labour and birth, the instructor talked about trusting your body and not fighting your contractions; that really resonated with me.  My labour with Andrew was quick and drug free.  I went into it thinking if I need the drugs I'll use them but I'll just keep breathing and relaxing until the pain comes, and the pain never came. October 18 2009, I was feeling slight cramps but only while I walked so I started thinking the baby could be getting ready to arrive this week. I did my normal routine that day, in the afternoon I went to a friend's baby shower and started telling everyone the baby was probably coming sooner than later still not paying much attention to these slight cramps. I got home from the baby shower around 5 o'clock and my husband was out walking the dog, I realized that these cramps were pretty regular so I started to time them, they were about 3-5 minutes apart, they were more noticeable now but not painful. When my hubby got home I told him this is probably it, so we kept timing my contractions.  To pass the time we packed our hospital bag and did up a load of baby clothes and blankets, this was 10 days before my due date and I thought I would have the next week to get that done.
When I realized I had to stop talking or walking with each contraction we headed off to the hospital, around 9 o'clock. As we walked into labour and delivery, they smiled and asked the purpose of my visit, I smiled back and said "I'm in labour." Almost like they didn't believe me they politely  said "ok, well get you into a room , check you  and decide if you need to stay with us or head home and wait until you get a little closer" I was a little more than 3 cm so they decided to keep me there. After being in the hospital for an hour or so my contractions were becoming more intense and I couldn't get comfortable. I was sitting on the edge of the bed using my arms to push down on the bed with each contraction, that was not working….then I remembered not to fight the contractions, and relaxing every muscle. With the next one I relaxed my arms and let the wave of the contraction come and go and I had an "Ah Ha"moment! I was like "OH!! That's all I have to do, just relax and breathe and the pain goes away!! How easy!!" I was relaxing my body with every contraction and only concentrated on my breath, this felt so much better and I thought "ok I got this, I can do this all night if I have to" Around 11:30 pm I had to use the washroom, and ended up having a contraction on the toilet and I felt the need to push.  I thought I would have to push for an hour so I calmly went back to the bed and told the nurse what happened, she checked me and said "we better get you to the delivery room now."  I walked down the hall way very quickly to try not to have a contraction on the way, one nurse and my husband helped me on to the bed, while another nurse called the doctor to let her know I was ready to push.  They asked me to try and not push until the doctor came, and I was thinking "how do you stop pushing I have no control over that, my body is doing it automatically", I thought I was saying "Sorry I can't help it" but my husband told me later, whatever I said sounded nothing like that. :)) The nurse decided to let me push without the doctor, she told me that they could see the head.  I didn't believe her, this is only my third or fourth push and I wasn't even trying, but the next contraction did hurt and I yelled "OW!!" The nurse looked me in the eye and sternly said my name and that helped me to focus again. I had one more contraction and Andrew was born at 11:55 pm! I couldn't believe it he was here already. I guess I didn't have to say Ow! As they placed my beautiful baby boy on my chest all I could say was "I could totally do that again!" The nurses laughed and told me I was like a pro, I felt like a rock star! I just had this empowering, beautiful, labour and birth and was holding a perfect healthy baby boy in my arms.  I was excited to do it again someday.
When I found out I was pregnant again, I was very happy, but during this second pregnancy we decided to move back to Regina, Saskatchewan to be closer to family. The stress of moving and trying to sell a house a province away, and worrying about money was a bit overwhelming.  Thankfully my pregnancy was healthy and normal so I had no worries about the baby.  I did worry about being calm enough to have a repeat of my first labour and birth, so I looked online for some help.  I found Marie's Birth Bliss page.  Marie's hypnobirthing class was a Godsend. These tools were exactly what I needed to help me focus and take back my power in my labour and birth. I practiced my relaxation every night, and this helped me get through all of the other stresses I was dealing with in my life on top of the pregnancy. Without this class I don't know how this whole thing would have turned out.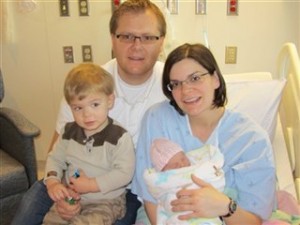 We decided we wanted to be even closer to family and be able to raise our kids in a small town. Peter found a job in Humboldt and we would be moving again, right around my due date, Dec. 6. I had no idea if I would be delivering in Regina or Humboldt or in a car on the way to Humboldt, but I was ok with that! I knew that no matter where I was all I needed was me to be calm and in control in order for this labour and birth to be safe and easy.  On Sunday, November 13 at 36 weeks pregnant and I went into "Practice Labour" I had worked all day and my surges started in the afternoon, they were like Braxton hicks so I barely noticed them but I knew they were pretty consistent, I ended up having surges every 3-6 minutes for over 24 hours they started getting more intense I was even doing my surge breathing for some of them. I could feel a lot of action in the lower abdomen so I visualized the surges pulling the muscles up and also the unwrapping of the ribbon around my uterus from the bottom up, I thought for sure this was going to be it, and then they just got further and further apart and faded away. That took a lot outta me but Marie told us not to get disappointed when this happens, just think of it as a really great practice labour. So I just trusted my body and thanked it for the great practice, knowing that it only got me that much closer to having an easy fabulous labour and birth.
On Nov.25 I got home from work around 8:30pm, snuggled into bed about 10:30pm, noticed a few surges but thought they would fade away like usual. Then my water broke, I started to get a little nervous since my water didn't break with Andrew until he was born I didn't know what to do now, so Peter called the hospital and I laid in bed doing some relaxation to calm myself down. When I was nice and relaxed again and our relatives had arrived to watch Andrew since he was sleeping, and we headed to the hospital at around midnight. Light surges continued every 3 minutes but I wasn't convinced this was really it yet, the nurses told me I could stay in a triage room for a couple of hours to be sure. To pass the time my husband and I listened to some music I had downloaded on my phone, and we danced together swaying to the music, movement was helpful to stay relaxed. I started to believe that the baby was really coming this time and the nurses agreed, they moved us to a delivery room around 2am.
My Mom arrived around 2:30 am which was so exciting for me, she wasn't able to be at Andrew's birth since she lived so far away but this time she was able to drive out and meet us at the hospital. We visited a bit between my surges; I knew things were progressing around 3:30 am when I needed the conversation to stop so I could concentrate on my breathing. I asked the nurse to check me because I wanted an idea of how much longer; I was thinking the baby would be there before 5 am. I realize now I shouldn't have done that. She thought I was still only 4-5 cm, I was so disappointed I started just hoping baby would be here before noon. I was not able to get up and walk and stay relaxed, so I just stayed on the bed doing my surge breaths, completely relaxing with my eyes closed in between. Peter was lightly rubbing my arms helping me stay in the zone. When I started getting nauseated I knew that was a good sign that things were progressing. The nurses asked if I needed anything for the nausea and told them "No, it's ok, if I have to I'll just throw up and then I'll feel better" Peter got a cold cloth and put in on my forehead and that just felt like heaven, soon after my body was ready to push, the doctor came in and watched me do my thing,
the staff was very supportive. It was so amazing to me that this time while pushing I felt no pain, only satisfaction, my body and baby were working together perfectly. I only had about three pushes and the baby was born Nov. 26th at 5am on the dot! They put the baby on my chest but I didn't know yet if I had a boy or a girl, my whole pregnancy I thought I was having a girl. My mom lifted the blanket over the baby to take a look and sure enough I was holding a baby girl. The doctor waited until the pulse slowed before she let Peter cut the cord, and I just took in the whole moment, in awe of what I had done… again.
People often say "Oh how did you get so lucky to have such easy births?" I don't know if they realize what it really takes.  It didn't happen by accident. First I had to believe it was possible for birth to be easy, natural and pain free. Then I armed myself with information through reading and prenatal classes, I looked for tools like yoga and hypnobirthing and put them into practice. I pictured a calm, beautiful, pain free birth in my mind long before I ever got to the hospital.  As often as I could during my pregnancy I used affirmations, to keep me believing I could do it. I used yoga and belly dancing to connect my mind and body. I meditated and practiced deep relaxation almost every night, to connect with my birthing experience.  I actively made an effort to connect with this new life growing inside me so we could bond long before she got here.  I had a beautiful birthing experience on purpose, I chose it, and made it happen.
Written by Alanna Bergquest
If you enjoyed reading this birth story, you might also enjoy these two posts.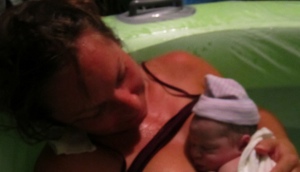 Hazel's Birth
My "guess date" was August 23rd and I was optimistically hoping to deliver the baby a week early (although Hazel had other plans!). My midwife told me that usually, first babies are born 8 days after the due date, which is exactly when Hazel came into the world.  Keep Reading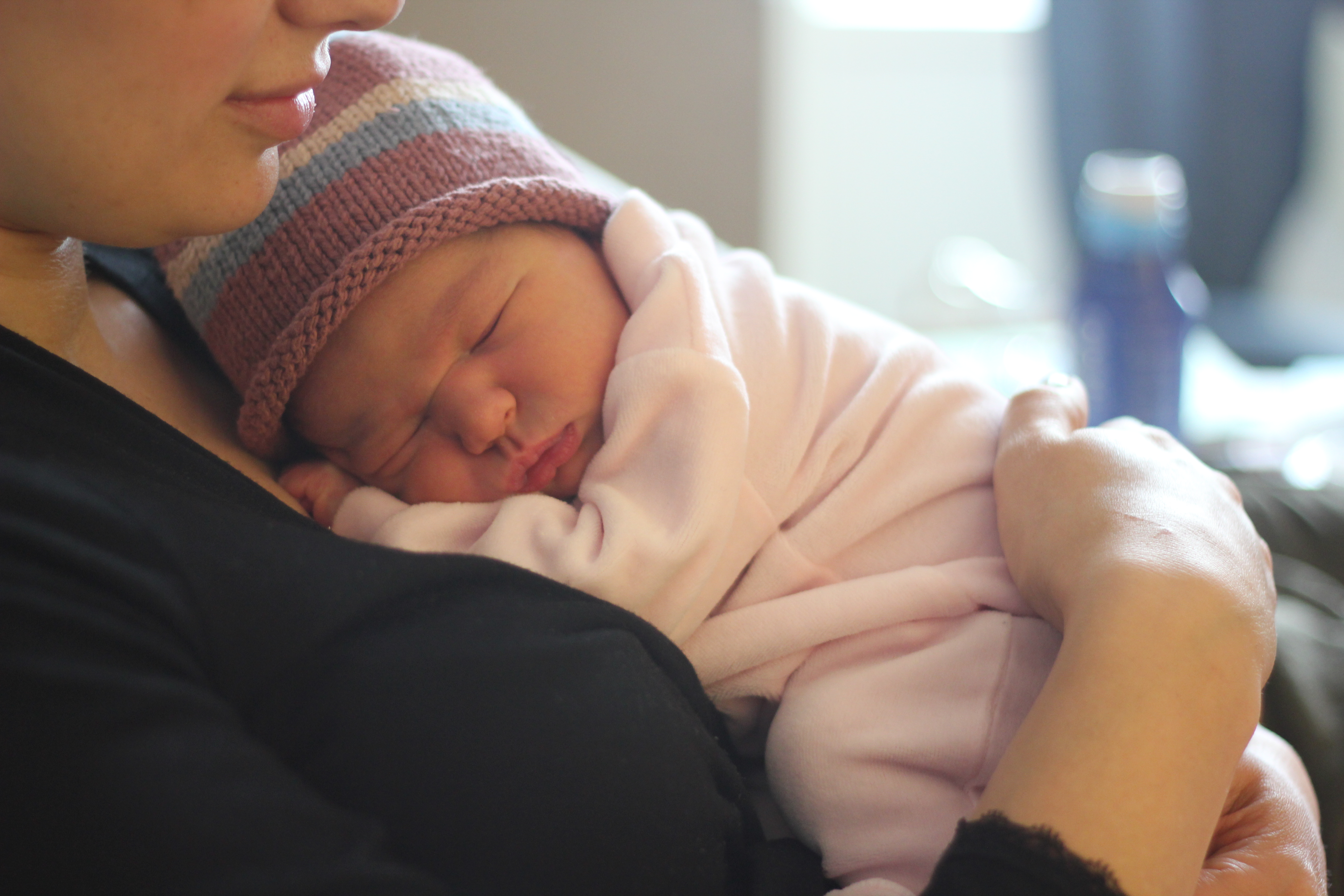 Calla's Birth
My wish for a Mother's Day baby came and went, and I woke up the next morning six days postdate. I was extremely excited to finally meet our baby and couldn't wait to go into labour.  I'd had so many false labour alarms, so I didn't want to get my hopes up when I started feeling some surges around 4 am. They didn't feel very different from the practice contractions I'd been having for weeks, so I just went back to sleep and hoped for the best.  Keep Reading
.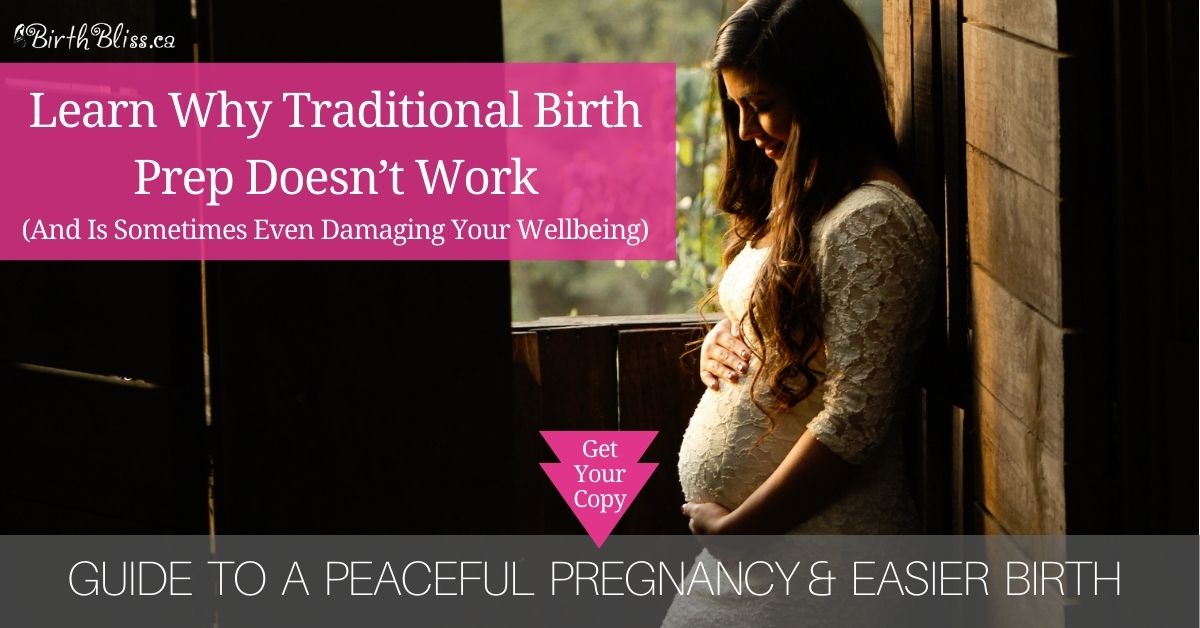 Growing a baby can be exciting, tiring and overwhelming all at the same time.  – – – >> If you're ready to stop worrying and start building the relaxed conscious mindset that will set you up for a positive birth experience, simply click here, and get the guide today.