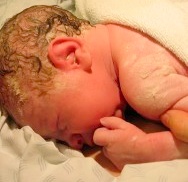 Here are several abstracts on the antibacterial properties of vernix.  There's a good reason why babies should not be bathed right away after birth.
The power of vernix is truly astounding.  Its main benefits are its various antimicrobial properties, which help protect a newborn against a wide variety of infections.  A secondary benefit is that vernix is highly moisturizing.  To such a degree that many cosmetic companies have researched it.
I posted this blog, because sometimes hospitals routinely wash this stuff away.  And while, I certainly understand the universal precautions for hospital personnel; if you wouldn't touch a mom's vaginal fluids without gloves, then it makes sense you shouldn't touch the baby who just came from her vagina without gloves either.  However the benefits of vernix for infants are too important to ignore.
If you consider the drug resistant staph sometimes found in hospitals, perhaps parents would prefer that hospital personnel wear gloves for the protection of the baby! One parent who was a nurse mentioned that in class one day, and it made perfect sense to me.
This list of research is by no mean conclusive, but it does represent a significant portion and offers a clear picture of the benefit of vernix.
Marie
*********************************
Antimicrobial Properties of Amniotic Fluid and Vernix Caseosa Are Similar to Those Found in Breastmilk
Akinbi, H. T., Narendran, V., Pass, A. K., Markart, P., & Hoath, S. B.
(2004). Host defense proteins in vernix caseosa and amniotic fluid.
American Journal of Obstetrics and Gynecology, 191 (6), 2090-2096.
http://www.ncbi.nlm.nih.gov/entrez/query.fcgi?cmd=Retrieve&db=pubmed&dopt=Abstract&list_uids=15592296
Summary: In this study, researchers analyzed samples of amniotic fluid and vernix caseosa (vernix) from healthy, term gestations to determine the immune properties of these substances. Participants were pregnant women admitted for elective cesarean section after 37 weeks gestation with no prior labor and no signs of chorioamnionitis (intrauterine infection). Women with a history of prenatal fever or premature rupture of membranes, or who received steroids prenatally or antibiotics during delivery were excluded, as were women whose babies passed meconium in utero, had congenital malformations, or required prolonged resuscitation after birth. Amniotic fluid was obtained by amniocentesis to determine fetal lung maturity prior to elective delivery. Vernix was gently scraped from the newborn's skin with a sterile implement immediately following delivery. There were 10 samples of amniotic fluid and 25 samples of vernix obtained.
Tests (Western analysis and immunochemistry) revealed that lysozyme, lactoferrin, human neutrophil peptides 1-3 and secretory leukocyte protease inhibitor were present in the amniotic fluid samples and in organized granules embedded in the vernix samples. These immune substances were tested using antimicrobial growth inhibition assays and found to be effective in inhibiting the growth of common perinatal pathogens, including group B Streptococcus, K pneumoniae, L monocytogenes, C albicans, and E coli.
The authors point out that the innate immune proteins found in vernix and amniotic fluid are similar to those found in breast milk. As the baby prepares for extrauterine life, pulmonary surfactant (a substance produced by the maturing fetal lungs) increases in the amniotic fluid, resulting in the detachment of vernix from the skin. The vernix mixes with the amniotic fluid and is swallowed by the growing fetus. Given the antimicrobial properties of this mixture, the authors conclude that there is therefore "considerable functional and structural synergism between the prenatal biology of vernix caseosa and the postnatal biology of breast milk." They also suggest that better understanding of these innate host defenses may prove useful in preventing and treating intrauterine infection.
Significance for Normal Birth: It is well understood that routine artificial rupture of membranes increases the likelihood of intrauterine infection because it eliminates the physical barrier (the amniotic sac) between the baby and the mother's vaginal flora. This study suggests an additional mechanism for the prevention of infection when the membranes remain intact: a baby that is bathed in amniotic fluid benefits from antimicrobial proteins that are found in the fluid and in vernix caseosa.
The results of this study also call into question the routine use of some newborn procedures. Early bathing of the baby removes vernix, which contains antimicrobial proteins that are active against group B streptococcus and E. coli. Delaying the bath and keeping the newborn together with his or her mother until breastfeeding is established may prevent some cases of devastating infections caused by these bacteria.
The fact that preterm babies tend to have more vernix than babies born at or after 40 weeks might mean that healthy, stable preterm babies derive even greater benefit from staying with their mothers during the immediate newborn period.
Finally, this study illustrates how the normal physiology of pregnancy and fetal development is part of a continuum that extends beyond birth to the newborn period. The immunologic similarities between amniotic fluid, vernix and breast milk provide further evidence that successful initiation of breastfeeding is a critical part of the process of normal birth.
*********************************
Antimicrobial polypeptides of human vernix caseosa and amniotic fluid: implications for newborn innate defense.
Yoshio H, Tollin M, Gudmundsson GH, Lagercrantz H, Jornvall H, Marchini G, Agerberth B.
Department of Woman and Child Health, Karolinska Institutet, Stockholm, Sweden.
http://www.ncbi.nlm.nih.gov/sites/entrez?cmd=Retrieve&db=PubMed&list_uids=12538777&dopt=Abstract
Antimicrobial peptides/proteins are widespread in nature and play a critical role in host defense. To investigate whether these components contribute to surface protection of newborns at birth, we have characterized antimicrobial polypeptides in vernix caseosa (vernix) and amniotic fluid (AF). Concentrated peptide/protein extracts were obtained from 11 samples of vernix and six samples of AF and analyzed for antimicrobial activity using an inhibition zone assay. Proteins/peptides in all vernix extracts exhibited strong antibacterial activity against Bacillus megaterium (strain Bm11), in addition to antifungal activity against Candida albicans, whereas AF- derived proteins/peptides showed only the former activity. Fractions obtained after separation by reverse-phase HPLC exhibited antibacterial activity, with the most pronounced activity in a fraction containing alpha-defensins (HNP1-3). The presence of HNP1-3 was proved by dot blot analysis and confirmed by mass spectrometry.
Lysozyme and ubiquitin were identified by sequence analysis in two fractions with antibacterial activity. Fractions of vernix and AF were also positive for LL-37 with dot blot and Western blot analyses, and one fraction apparently contained an extended form of LL-37. Interestingly, psoriasin, a calcium-binding protein that is up- regulated in psoriatic skin and was found recently to exhibit antimicrobial activity, was characterized in the vernix extract. The presence of all of these antimicrobial polypeptides in vernix suggests that they are important for surface defense and may have an active biologic role against microbial invasion at birth.
Publication Types: Research Support, Non-U.S. Gov't  PMID: 12538777 [PubMed – indexed for MEDLINE]
*********************************
Skin Sciences Institute Study Key to Baby-Like Skin
http://www.cincinnatichildrens.org/about/news/release/2003/5-vernix.htm
Tuesday, May 06, 2003
CINCINNATI — For nine months before birth, infants soak in a watery, urine-filled environment. Just hours after birth, however, they have near-perfect skin. How is it that nature enables infants to develop ideal skin in such seemingly unsuitable surroundings?
A new study by researchers at the Skin Sciences Institute of Cincinnati Children's Hospital Medical Center shows that the answer may be vernix — the white, cheesy substance that coats infants for weeks before they are born, then is wiped off and discarded immediately after birth. If they're right, the health care implications for newborns and adults could be remarkable.
The study, presented May 6 at the annual meeting of the Pediatric Academic Societies in Seattle, shows that newborn skin with vernix left intact "is more hydrated, less scaly, and undergoes a more rapid decrease in pH than with vernix removed," says Marty Visscher, PhD, executive director of the Skin Sciences Institute and the study's main author. "These beneficial effects of vernix suggest that it should be left intact at birth."
Vernix is a complex mixture of lipids (fats), proteins and water. Babies born at 32 to 33 weeks are covered with the material. Those who are born full term have already lost a good portion of it. The researchers studied full-term infants, half of whom had vernix wiped off and half left intact on the surface of the skin. Skin hydration, moisture accumulation rate, skin pH and visual dryness were measured at one, four and 24 hours after birth.
Skin Sciences Institute researchers have been studying vernix for several years and found that it is not only a moisturizer but also a wound healer, cleanser, anti-infective and antioxidant. Cincinnati Children's has obtained four patents on vernix technology and hopes to formulate a synthetic equivalent that could be used in a variety of ways: as a film on products ranging from diapers to wound dressings; as a replacement for vernix in low-birthweight, premature infants who are born before vernix develops at about 27 weeks; as a cream or lotion for topical needs; and as a delivery system for other medications.
"We view the production of vernix as analogous to infant formula as a substitute for milk," says Dr. Visscher. "Nature has figured out how to make it. Long term, we hope to be able to mass produce a synthetic equivalent. There is nothing out there now to take care of these preterm babies, and the list of other applications for vernix is endless."
The Skin Sciences Institute views infant skin as ideal skin and focuses on the skin as a primary care interface — a biological spacesuit that separates outer from inner space. "Skin is the largest organ in the body, yet it's often treated as insignificant," says Steven Hoath, MD, a neonatologist, medical director of the Skin Sciences Institute and co-author of the study. "You can't deliver medical care in the home or hospital without paying attention to this interface, and it has a disproportionate impact on patient satisfaction. People assume you can transplant a liver, but if you can't pull leads off without hurting them, you're not providing good care."
The Skin Sciences Institute has established collaborative relationships with major companies involved in skin care as well as skin barrier structure and function, including the Procter & Gamble Co., the Andrew Jergens Company, Kao Corporation, GOJO Industries, Coloplast Corporation, Kenabo, Becton Dickinson, Vyteris, NOVA Technology Corporation, 3M, and W. L. Gore Industries.
*********************************
The Biology of Vernix Caseosa
http://www.blackwell-synergy.com/doi…4.2006.00338.x
S. B. Hoath, W. L. Pickens and M. O. Visscher – International Journal of Cosmetic Science, Volume 28 Page 319 – October 2006
doi:10.1111/j.1467-2494.2006.00338.xVolume 28 Issue 5
"Postnatally, vernix is simultaneously a cleanser, a moisturizer, an anti-infective, and an anti-oxidant. Vernix facilitates acid mantle development and supports normal bacterial colonization. Its hydrated cellular structure and unusual lipid composition provide a 'best' solution for the needs of the foetus and newborn"
*********************************
Vernix caseosa as a multi-component defence system based on polypeptides, lipids and their interactions
http://www.springerlink.com/content/q31860t243485552/
M. Tollin, G. Bergsson, Y. Kai-Larsen, J. Lengqvist, J. Sjövall, W. Griffiths, G. V. Skúladóttir, Á. Haraldsson, H. Jörnvall1, G. H. Gudmundsson and B. Agerberth, Journal Cellular and Molecular Life Sciences (CMLS) Volume 62, Numbers 19-20 / October, 2005 pp 2390-2399
"protective functions to vernix such as antifungal activity, opsonizing capacity, protease inhibition and parasite inactivation…In conclusion, vernix is a balanced cream of compounds involved in host defence, protecting the foetus and newborn against infection."
*********************************
A novel role for vernix caseosa as a skin cleanser
http://www.ncbi.nlm.nih.gov/entrez/q…&itool=toolbar
PMID: 15334030, Moraille R, Pickens WL, Visscher MO, Hoath SB. Biol Neonate. 2005;87(1):8-14. Epub 2004 Aug 27.
"a role for vernix caseosa as a skin cleanser. Previous views of vernix as a soil or skin contaminant at birth need to be reevaluated."
If you enjoyed reading this article, you might also like these two posts.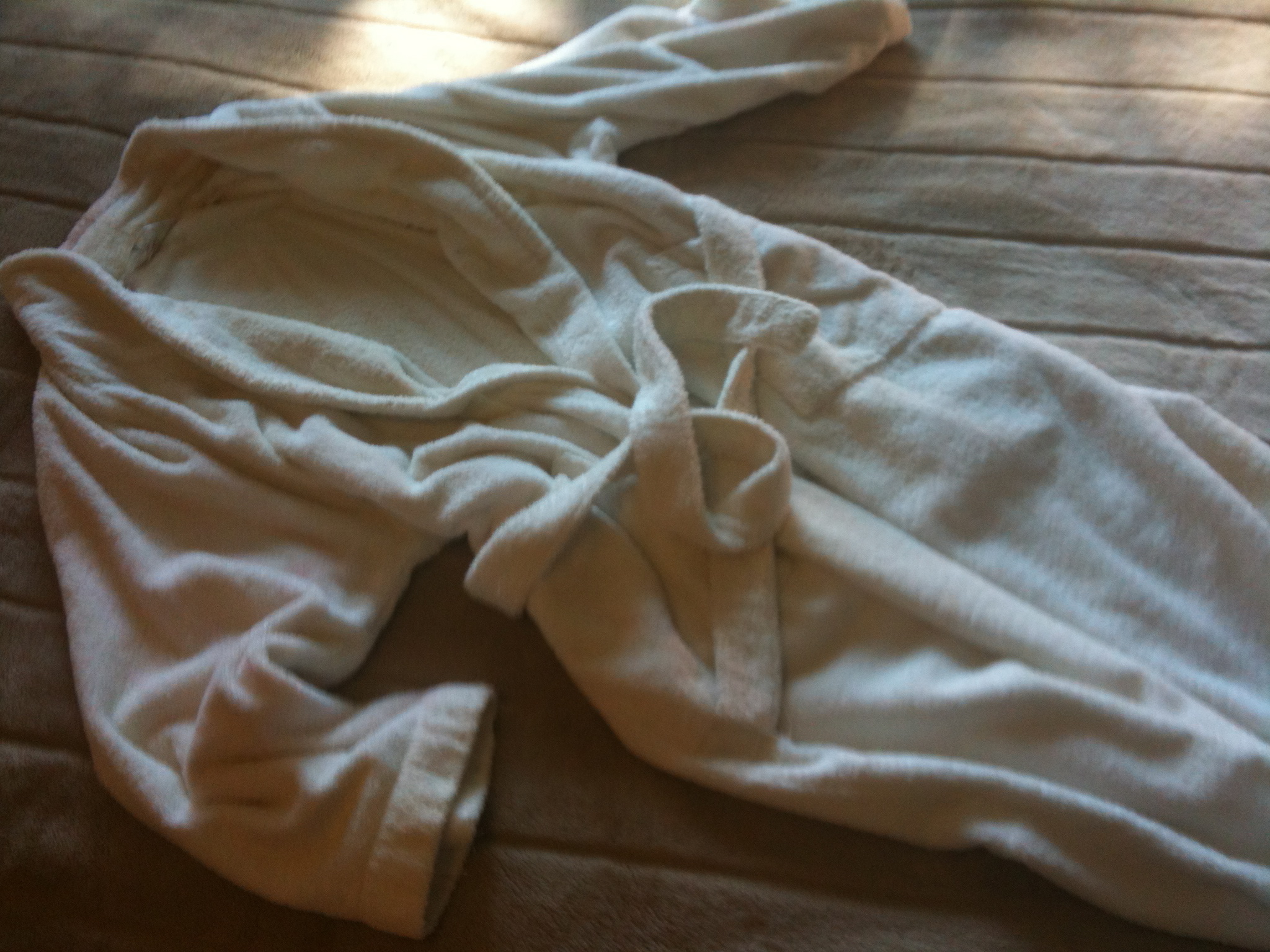 What Should I Wear in Labour?
Sometimes this question of what to wear in labour comes up in my hypnobirthing class. I often suggest that women watch to see what women wore in the videos – hospital gowns, bra tops, towels, big t-shirts, bath robes, nothing at all, or whatever appeals at the time…    And when I think back on my own three labours, I realized that I wore all of the clothing on the above list at various times.  Keep Reading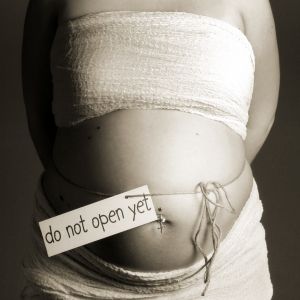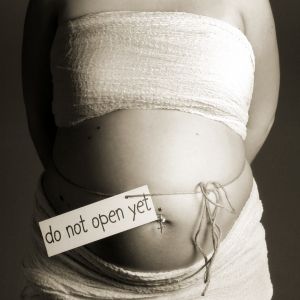 Are You Ready for Baby?
If you are close to your due date, chances are that someone or perhaps everyone seems to be asking you this question.  But how really does anyone prepare for a new baby?  To me preparing for a new baby is much like getting ready for a trip to a foreign country.  Keep Reading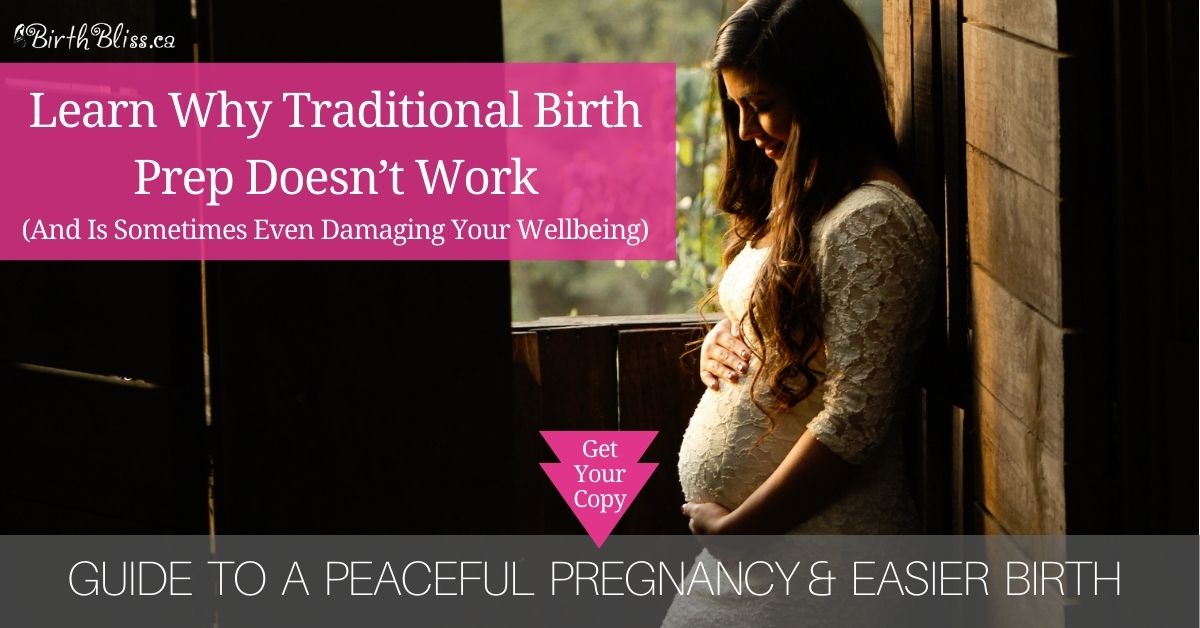 Growing a baby can be exciting, tiring and overwhelming all at the same time.  – – – >> If you're ready to stop worrying and start building the relaxed conscious mindset that will set you up for a positive birth experience, simply click here, and get the guide today.