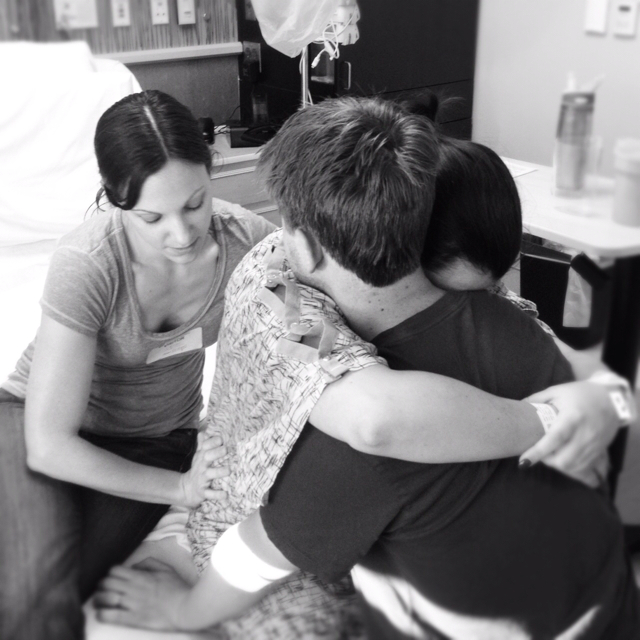 Recently one of the women in my prenatal yoga class mentioned that she was interested in hiring a doula (aka a professional labour support companion) but that her husband had some reservations.  I responded by stating how much I wished that this father-to-be could speak with other dads who have had a doula assist at the birth of their child.
In my ten years of working with pregnant moms, I have yet to encounter a couple who regretted their decision to hire a doula.  Instead, the couples talk about how much better the experience was with the extra support that their doula provided.  In addition, I have observed that the couples who have a doula generally have better and more satisfying experiences.  However I also understand that sometimes hearing the message from me isn't as believable as hearing it from another dad.
So I asked the dads to share their experiences and their thoughts on doulas.  Below is the result.
Yeah for doulas!
Marie
*******************************************************************
We had a doula for the birth of our second child and its actually hard to put into words just how positive the experience was. With our first baby, we didn't and there were interventions, medications, confusion, it was scary, very medicalized. The second baby, we were able to labour mostly at home, there were no interventions, no medications. The doula did not in any way take away from my role, because she was there I could focus on what was happening and the baby being born. She did everything from time contractions, deal with the hospital staff to communicate what we wanted, interact with anxiously waiting family members so we could have those precious first moments together, help establish breastfeeding. Most importantly, she had knowledge that of course I didn't. She was a woman, she has given birth, she knew what to say (and when not to say anything!) and I felt far more confident, prepared, and involved because she was there. I wouldn't have known this the first time and I get that men may feel a doula would take over and push the husband aside, I probably would have thought that too, until we had our first baby and I realized how little we knew! Do it, do it, do it. I would highly, highly recommend it. ~Jay
******************************************************************
The birth of our children is the most important and powerful event that we humans are ever to experience. It is the essential process that living beings are gifted with. During the birth, life giving decisions are made: when to induce, epidural or not, cesarian or not, birth position, when to travel, what to request. I hasten to imagine what a wrong decision made could mean here. This is the beginning of your child's life, his/her first breaths, his/her first moments out of the protective comfort of the womb.  Life as we know it begins at birth.  Think about this for a moment.
We have no qualms about hiring financial planners, dog trainers, life coaches, lawn service people, mechanics, house cleaners, massage therapists.  Surely the job of bringing our children into the world warrants the same attention — warrants the assistance of someone who deeply understands how birthing happens, who has studied birth, who has attended numerous births, and whose sole purpose is to help bring our children from the womb into our arms.
We hired a doula to help us bring our son Thomas into the world. Though our birth was relatively easy (4.5 hours total labour, no epidural, no pain medication) I still can not conceive of the process without the wisdom and love our doula brought with her.  If I were emperor of the world I would make doulas mandatory and quadruple their salaries.   ~Ian, father of 13 month old Thomas
**************************************************
Kevin and I can attest that having a doula with us for the birth of our daughter Desirae was the best thing we did.  Karen was our doula.  Kevin was very calm and collected through the entire labour and delivery, but this was our first baby so neither of us really had a clue how things would progress.  It was really great that Karen was there to confirm that what we were experiencing was normal and when I lost my concentration on breathing she was there to keep me focused and also guide Kevin on what to do to help me.  This took all the pressure off of Kevin so that he was just able to focus on me and the baby and at no time did he feel that Karen was overbearing or trying to take over his role.  My memory of Desirae's birth was Kevin being by my side through the entire thing and Karen being in the background and jumping in when we asked her to.
Karen also kept a log of the entire birth and wrote us a beautiful birth story after – something that we didn't expect but really appreciate because Desirae's birth happened so quickly a lot of it seemed like a blur.  Since I needed to go for surgery after Desirae's birth Karen was also very supportive and stayed with Kevin until I returned and then she helped us get settled in the Mom and baby unit.   All in all both of us would highly recommend hiring a doula it is well worth the money.  ~ Kim and Kevin
*************************************************
Having a doula for the birth of our son, Zachery, in August 2004 was a tremendous help to both my wife and me.  Starting with planning for the day of birth, our doula helped us think about things we should be ready for when going to the hospital that we wouldn't have otherwise thought of.  During the labour, my wife found the presence of a woman with child birth experience to be tremendously re-assuring and I didn't need to worry about "did I forget anything from the class?"  Our doula was able to anticipate and adapt to my wife's needs to assist her in the delivery.  Even though we have been through the experience once, we plan on having a doula for any forthcoming children as well.   ~Jason
**************************************************
I couldn't recommend a doula more, pre-natal classes are good but once your at the hospital and suddenly labour is very very real having the support of the doula is priceless. Watching my wife endure so much pain, pain I could only understand intellectually, I was thankful to have the experience of our doula to lean on.   Our doula Karen really helped and I couldn't recommend more strongly that others consider using a doula, especially for their first child. The days that followed in the Mother baby ward were often overwhelming, chaotic and at time contradictory. The birth and labour was not and I think we owe that to Karen. You can read our story here.  ~Rob
****************************************************
Doulas are worth every penny.  Leading up to the birth, ours answered questions that we had that we didn't ask our doctor.  Ours checked in on us regularly to make sure that everything was ok before giving birth.  On the big day, ours made sure that mommy was comfortable by doing the little things that I had otherwise forgotten to do.  I was there in the room supporting my wife.  The doula was everywhere making sure that everything else non-medical was taken care of.  She even reminded me to enjoy the moments and take some deep breaths.
I encourage the men to meet some doulas and talk to them.  The doulas that we talked to wanted to be there so that Karen and I got the most out of the experience while delivering a healthy and happy baby girl.  They tried to get a feel for what kind of involvement I wanted to have during the birthing process.  They were then able to explain how they would be able to compliment my level of involvement in the process.
I believe that doulas help parents to be active participants in the birth rather than patients at the hospital.  Sometimes the doctors forget to do that and our doula was able to remind everyone that birthing is not just about the end result of birth but also about the journey on the way to what results in birth.  Ours helped make our journey that much better.
If any of the dads would like to talk about doulas with a fellow dad, have them give me a call.   ~Blair
*************************************************************
My husband was the one who was hugely in favour of a doula (after I mentioned it to him and gave him an idea of what they do).  Here are his reasons regarding the benefits of a doula.  He felt that the first point was VERY important.
** Especially for a couple's first birth, at least you have someone who is on your side that has been through the birthing process before
– It takes the pressure off of the man – as a man you feel like you have to know everything but with a doula, you don't have to be the one who knows everything
–  The more the people that are there to support the couple, the better
–  Allows you to take a break to go to the bathroom, etc. and there is still someone there to support your wife/partner
–  If there is a c-section or other unforseen complication, the husband is able to stay with the baby while the doula supports the wife
–  A husband is so emotionally invested that if the wife feels like she can't 'do it' anymore, the husband may 'cave' but the doula may offer guidance in a way that he is unable to
My husband said that he really feels strongly that if the wife feels that she would like a doula because it will make her more comfortable, her husband should support her as it is an unknown experience so he should do whatever he can to make it easier on her.
I hope that this helps as we both feel very strongly that a having a doula really added to our family's birth experience and we would  definitely recommend it to other couples.   ~ Jamie and Leah
*****************************************************
So, I was a little hesitant to hire someone to be there when Phoebe was born, but Brika really wanted it, so I took a closer look at her reasons.  She wanted someone who was a woman that had children (experience I couldn't have), and someone who was experienced at the General hospital.
We talked about how this was an enhancement to what I would do, not a replacement.  It would let me concentrate on Brika, not on doctors and nurses and being an advocate.  Our doula also (because Brika's labour was soooooo long) gave me some breaks from the room with out feeling guilty.   ~Jordan
******************************************************
My name is Barry — Christine's husband. Christine asked me to write to you about why I think having a doula for both our sons' births was beneficial and important.
I agreed to have a doula for Michael's birth because Christine didn't have anyone in her family (like her mom) that she wanted in the labour and delivery room with her but she wanted someone other than me who was experienced with labour and delivery and could add a feminine presence. Since it was a first time experience for both of us, we also thought it would be good to have someone knowledgeable with us who could help bring peace and calm to what could be an anxious time. We also thought it was important to have someone be able to stay with Christine in the event that I needed a break or, after the birth, had to go with the baby (i.e. after a C-section).
During labour and delivery with Michael — which lasted 18 hours — it was really helpful to have our doula there to provide physical support (massage, suggesting different positions for contractions), moral support and emotional support. When I needed to go get something to eat and get some fresh air after a long night of labour but before the pushing started, the doula stayed with Christine so she was never alone. I also noticed that Christine sometimes responded to suggestions the doula made more quickly than if I had made them — which was okay with me (I checked my ego at the door and focused on what was right for Christine).
During labour and delivery with Matthew — which was only 3 hours — it was helpful to have our doula because she had gone through the hypnobirthing course with Christine and could use some of the visualization methods they had been practicing to help Christine move through the contractions. Having the doula at our house while Christine was in early labour was also helpful because I was dealing with getting our two year old off to his Gramma's. Our doula was with Christine using her hypnobirthing techniques to help her relax while I was doing that.
In both cases, having the doula turned out to be great for both me and Christine. I never felt that my presence wasn't needed or felt threatened by having the doula there. It was wonderful to have knowledgeable, caring women to support and celebrate the arrival of our sons in a way that acknowledged and honored our own hopes for our birth experiences. I found both of our doulas to be respectful of my role and, in fact, their presence there allowed me to also relax and enjoy the experience much more than if I'd be the sole support for Christine.  It was also comforting to have someone (other than Drs and nurses) in the room who had lots of experience with labour and delivery but not necessarily from a totally medicalized perspective (both doulas were able to use reiki and reflexology and aromatherapy throughout the process to provide additional relief for Christine).   ~ Barry
*****************************************************
I found the doula very helpful. It helped to make Sara's labour a more relaxing experience for me. It was definitely worth the money! I didn't feel left out at all, except when I wanted to sleep!  Brent
This is actually true- Brent FELL ASLEEP during my labour! And it wasn't that long, only about 10 hours. But because we had the doula there, he was able to relax, and yes, even sleep. Because Karen was helping me out so much, that didn't bother me at all.  It was a huge struggle to get him to hire the doula, but he agreed afterwards that it was a great decision and we'll definitely do it again next time. – Sara
******************************************************

ps. Also great is this article written by a Dad outlining 5 Reasons Why Dads Should Demand A Doula.
If you found this article helpful, you might also enjoy the following two posts.
Should I Have My Mom or Hire A Doula During My Labour?
Feeling deeply supported during labour is one of the hallmarks of a satisfying birth experience.  Choosing who is going to provide that support is an important process.   Keep Reading